How to make a professional CV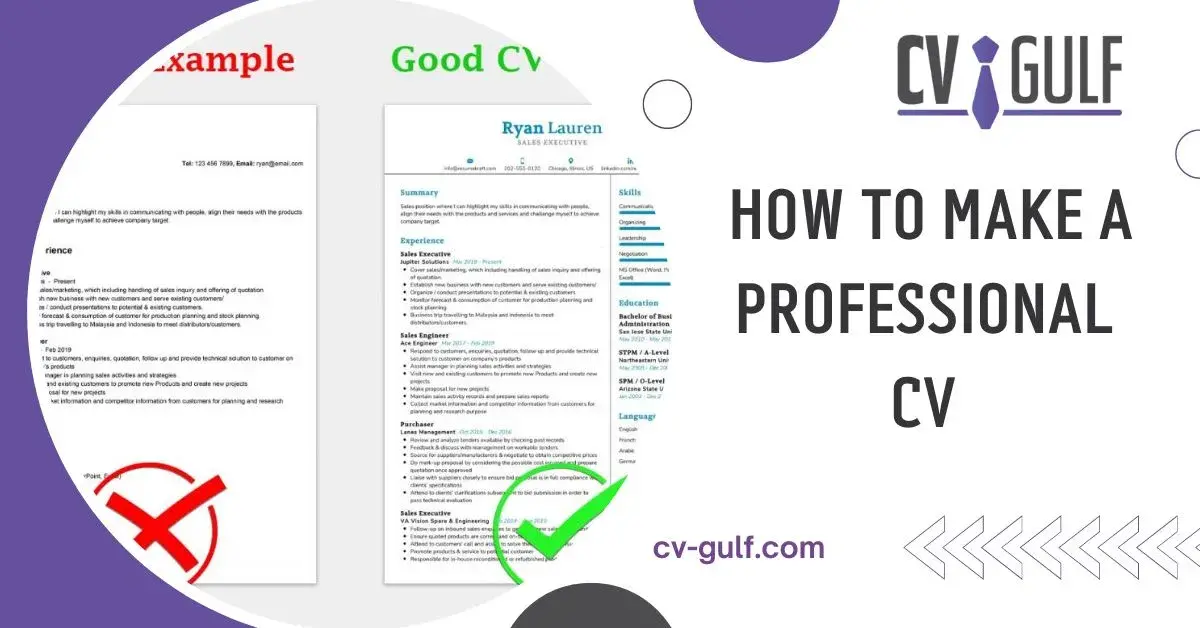 The Arab job market is flooded with thousands of applicants, so having an outstanding resume is crucial if you want a job. An effective CV should summarize your professional capabilities, qualifications, and work experience while highlighting your strengths.
A recruitment agency might even contact you if your CV is well-written. This guide will teach you how to make a professional cv (with tools).
CV format.
Having a solid CV is an essential part of how to make a professional cv and get hired by a potential employer. You should write your CV in a way that contains the qualities an employer looks for in an applicant so that you are shortlisted for an interview. Your CV should include the following information.
Personal details.
Be sure to include your personal information at the top of your CV. You should have this on your CV so that prospective employers can see what you are capable of. Discuss the following chronologically in this section:
Write your name in bold, large letters in the center of the page.
You must provide your phone number, email address, and physical address.
Professionalism is essential when it comes to email addresses.
Statement of personal information.
You summarize your qualifications, skills, experience, ambitions, and career goals here. Employers should be able to quickly determine your qualifications and suitability from this section of your resume. You should provide real-life examples, but try not to go into too much detail.
What achievements have you achieved?
It can help you stand out from other applicants if you detail your professional accomplishments in a CV. Your achievements should reflect your upbeat personality, such as:
Incentives.
Timely and within-budget completion of projects.
Your awards.
Amount of sales growth (in percentages).
In the organization, your role as a leader.
The applicant should omit this section if they are just starting their career. Ensure that all details are presented in bullet points and should be as brief as possible.
Education background.
An essential part of a CV is the skills section. To list your academic achievements in reverse chronological order, begin with the most recent accomplishment. Here are the items you should discuss:
Undergraduate and postgraduate degrees
College courses and diplomas
Smart Serve Certificate, OCT.
Trade certifications or apprenticeships.
Work experience.
Experienced workers are more likely to be hired by employers than those with little or no experience. When applying for a competitive position, mentioning your previous work experience is crucial. Here are samples of jobs to include on how to make a professional CV:
Positions as volunteers
Jobs that are both temporary and permanent
Weekend or summer jobs
An internship
Full-time and part-time employment
Conducting research
Your curriculum vitae should include your primary responsibilities in all jobs you mention.
Skills to discuss.
Additional skills you have that may prove helpful in a company are as necessary as academic qualifications and experience to make a professional cv.
During your interview, emphasize your soft skills, such as communication, teamwork, computer skills, and interpersonal skills related to the advertised position. When addressing these points during an interview, it is essential to be honest, and realistic.
Personal interests and hobbies.
An enticing CV includes your hobbies as an example of your well-rounded personality. However, you must ensure that your hobbies are relevant to the job. Discuss your passion for food and restaurants if you're seeking a catering job.
You don't want to waste your time filling out this section, so keep it short. To keep your curriculum vitae short, only mention a few hobbies.
How to write CV in English.
A professional CV in English can only be crafted with the proper knowledge. Combining your skills and experience according to the vacancy you are applying for will maximize your chances of success. To enhance your chances of landing your first job, follow these ideas on how to make a professional CV, and try out our free English CV maker.
Make your resume simple.
Typical resume templates are simple in design and have strong lines dividing categories and leading the eye through the template. A grayscale color scheme is usually used in these templates to create a subdued effect that focuses on the content rather than the formatting. With simple resumes, the body is more emphasized than the top, similar to other free templates.
Easily readable.
The interview panelists do not usually have time to read complex CVs because dozens of applicants submit their CVs for each job. By crafting a well-written CV, you demonstrate your ability to provide accurate, coherent information to potential employers.
You should be able to show from the beginning how valuable your transferable skills are. Check your CV for these points:
Briefly explain where you are now and what you intend to do in the future.
The length of a paragraph should not exceed a sentence.
The use of bullet points is appropriate.
Clearly defined headings.
Professionalism is key.
Skills and experience should be written to meet the requirements of the advertised job, and some key terms should be included. When appropriate, use jargon- not overly formal or too informal.
In your CV, include words such as organized, marketing, and social media described in the job description. The employer will see you have all the relevant skills required and will be convinced you are a good fit for the position.
Making the right CV choice.
These three points tell you how to make a professional cv :
Practical: emphasizes skills that can be transferred to other situations and individual experiences.
History career: shows a person's career history reverse chronologically, starting with his present job.
One-page summary: summarizes key strengths of interviewees and summarizes their career history.
Provide a basic overview.
Ensure that your CV includes all the necessary information about you. Information such as your contact information, academic credentials, employment history, skills, competencies, interests, and hobbies should be included.
Activate your voice.
Your CV will be more robust and more precise if you use an active voice, and a passive voice lacks conciseness compared to an active voice. To clarify your point, say, "I coordinated and oversaw our marketing campaigns."
Ensure that information is accurate and precise.
Two pages are the maximum length for a good CV. Due to their busy schedules, employers may find it difficult to read several pages of written material.
When you have more than a few years of experience, you should condense your career history, talents, and skills. Keeping everything short and to the point is critical.
The importance of proofreading should also not be underestimated. Avoid typos and spelling mistakes by using correct grammar. First impressions matter, so spend the extra time polishing your document and ensuring it is error-free.
How to write a cv for a student.
Whether you're Applying for a job or internship as a high school or college student, an experienced college graduate looking for a new job after graduation, or an academic position that requires teaching or research. You'll need an excellent CV for your job application to succeed. Listed below are three tips for undergraduates to consider when writing a CV.
Provide more information about your education section.
As a recent graduate, your academic background will probably be crucial to landing a job and a start on how to make a professional cv. To stand out among similarly qualified candidates, ensure you fill out the education section of your resume with details related to the job.
You can demonstrate your high academic achievement by listing your cum laude and Dean's list, your GPA (3.5 or above), and awards and scholarships earned. You should also include relevant coursework if it relates to the position.
An "experience" section would be helpful.
Employers won't expect you to have a lot of experience and qualifications since you're still in school. In today's competitive job market, having relevant work experience can make all the difference.
Consider creating a "relevant experience section" on your resume and listing only the professional experience directly corresponding to the position you're applying for. Volunteer work or extracurricular activities can also provide this experience.
Leaving out jobs you held while you were younger, such as fast-food delivery or cashiering, is a wise idea since those jobs may not be relevant to the job you hope to get once you graduate (but if they are, list them).
Consider your transferrable skills.
If you are an older student returning to school for a career change, you likely have transferrable skills that you can list on your undergraduate CV. When writing a CV, pay attention to these complex and soft skills.
These skills can help you become more qualified in a job application, regardless of whether they were gained during school or at a previous company.
Moreover, you can list skills you developed through extracurricular activities and volunteer work in addition to what you learned in the classroom.
How to write a cv pdf?
Regardless of how you send your resume, keep it consistent by choosing the correct file format, which is one of the keys to making a professional cv. Your resume can be downloaded free as a Microsoft Word or Google Doc file using a tool from our website. Alternatively, you can download your resume in PDF format.
Your resume needs to be formatted like the hiring manager sees it when you're ready to submit it. Our templates allow you to download your resume as a PDF or Word DOCX file without changing the formatting. You can be sure your resume will display the same way on any device or screen with a PDF.
However, some online applications require DOCX files, which are helpful if you need to adjust your resume offline. The DOCX file downloads match the exact layout of the PDF, so regardless of the file type you choose, you're assured of having a perfectly formatted resume.
And after you save it, Word will allow you to keep it in pdf format to look more organized and professional.
Q&A:
To conclude, the world is evolving every second, and we as humans need to be updated on the new requirements for jobs in the gulf countries, for example, so we have to be more scaled and more experienced and add this to our cv. Therefore that is the final touch on how to make a professional cv.
Stand out with our free CV builder. Pick any free pro template, request a free expert review, or go premium for a full VIP service!
Learn more by reading Guideline | CV format for job in Saudi Arabia.