What is the best CV format for UAE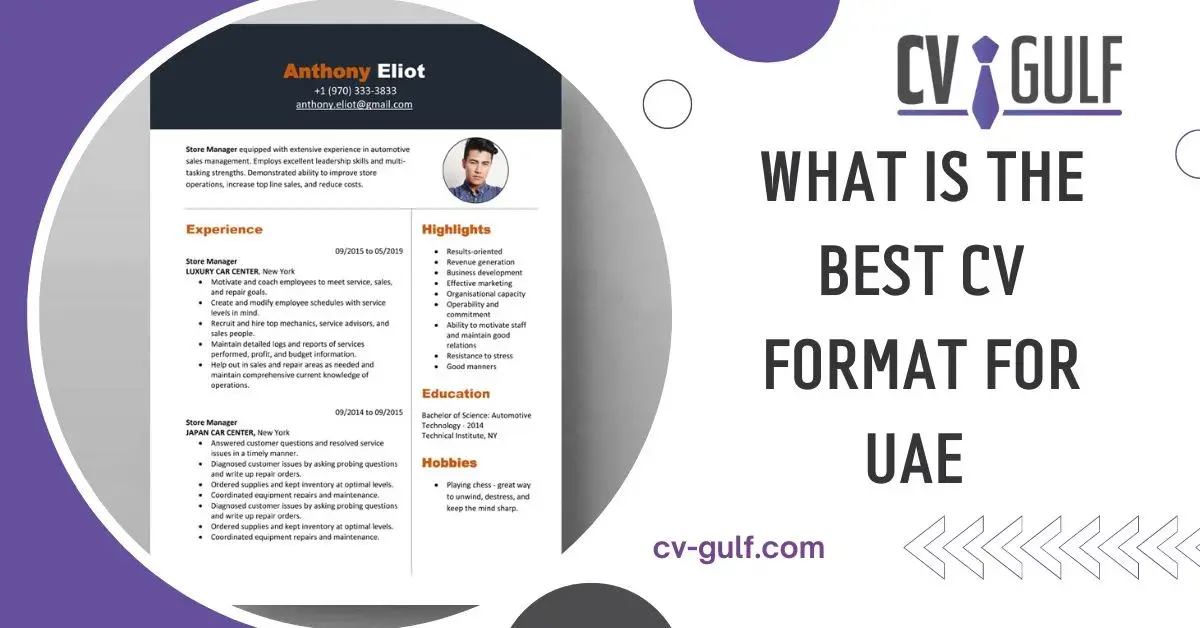 It is widespread for people to create the same CV and send it out regardless of the job or employer. As a result, you might not be able to get an interview if you make this mistake. To be suitable for every position and level of experience, a standard CV cannot be used.
You want to create a CV that highlights skills matching the recruiter's needs, which may require you to use a different CV template. This guide will inform you how to get the best cv format for UAE.
Best cv format.
You can stand out from other applicants with a great resume and capture the attention of recruiters and hiring managers. The three most common resume formats include chronological, functional, and combination formats, though there are several other forms you can use as well. It is essential to consider your background and goals when choosing one of these types of resumes.
We will share with you some great tips about formatting your resume in the best way to suit your career goals. As a first step, let's take a closer look at the three main types of resumes and figure out which kind of resume would be the best cv format for UAE that suits you the best.
Resume format 1: Chronological resume.
The chronological resume lists each instance of your work history in reverse-chronological order, starting at the most recent position at the top and moving forward in reverse chronological order.
For many years, this format of resume has remained to be the most common format of resume and is the most traditional. A chronological resume format is one of the best cv format for UAE, and it usually includes the following information in this order:
Contact information.
Objective or summary statement.
Relevant skills.
Professional experience.
Education.
Additional information (i.e., volunteer work and special interests—optional).
Resume format 2: Functional resume.
Resumes that emphasize relevant skills over work history tend to be functional. In contrast to the chronological format, the available design emphasizes the applicant's skills pertinent to the position they are applying for rather than providing detailed descriptions of their accomplishments within each class.
Regarding the best cv format for UAE, You may want to consider a functional resume if you have a long gap in your employment history, are a first-time worker, or have changed careers drastically.
The right qualifications for a job can be highlighted by highlighting transferrable skills and your most relevant accomplishments. In addition, recruiters are more likely to focus on pertinent information to the role rather than a background that isn't right for the position.
Resume format 3: Combination resume.
This type of resume combines chronological information with functional details. Your work experience and relevant skills can both be highlighted in this resume format. A summary statement, volunteer work, or special interests may need to be omitted from your resume because your skills and employment history will occupy most of the space.
Depending on the significance of your work experience for the job, you should first list your skills or work experience in a combination resume. It might be a good idea to list your unique skills above your work experience if you have many important to the industry you are applying for.
As well as looking for clues in the job posting to better understand what most appeals to the employer in a potential candidate, it may also be helpful to analyze the job description.
Gulf CV template.
To ensure that you are getting the information out of your document within the area that can be read on the page, you need to set proper margins, fonts, and headers.
Make sure that the margins are set appropriately.
It is usual for resumes, cover letters, and resignation letters to have a margin of one inch on all sides, regardless of whether it is a resume or a cover letter. You might want to reduce the margins to .75 inches if you need more room to describe your relevant skills and experiences.
Your margins should be .5 inches or more significant if you decide to adjust them. A PDF or automated transcription system often ignores text that extends outside the margins of .5 inches.
Choose a readable font that is professional.
Make sure your resume font is clear and easy to read when deciding what font to use. Your resume font should be easy to read for employers, so they don't have to work hard to understand you.
In addition, an applicant tracking system is helpful when sending your resume. Intricate fonts are often difficult to read and interpret by an applicant tracking system (ATS), commonly used by employers. You should avoid using "light" or "thin" fonts on a screen or paper.
Serif fonts and sans-serif fonts belong to two main categories. In contrast to sans serif fonts, serif fonts have tails. Having clean, easy-to-read lines makes sans serif fonts good for resumes (or fonts without seats).
Even though there are some fonts, such as Georgia, which are considered simple and professional by employers, there are still others that are widely accepted.
10 to 12 points should be the size of your font.
Setting an appropriate font size can also help you make your words clear and readable. Keep your font between 10 and 12 points. There might be an appearance of unprofessionalism in anything more significant.
Whenever you have a lot of information to convey, it is recommended that you use 10-point font for your resume, and you can increase the font size if there is enough space on your resume.
Avoid further reducing your font size if your resume is still longer than one page with a 10-point font. To have the best cv format for UAE, try to make your ideas a little more concise rather than expanding on them, and see if there is an opportunity to do so.
The most effective way to accomplish this is by removing or removing any irrelevant or extraneous information, combining ideas, or reducing the number of filler words. In addition, you should shorten your sentences to make your concepts more straightforward.
The headers of the feature sections
To help employers find the information they are looking for quickly, it may be helpful to bold, underline or increase the font size of section headers by one or two points.
It is imperative to pay attention to how section headers are formatted – these should be clearly differentiated from the section body in a clean, professional manner. There are a few different ways in which you can stylize your headers:
Bald font should be used on your titles section
You have to increase the size of your section header fonts to 14 points
Use underline on your section header
Your name and contact information can also be styled the same way. Employers should be able to access this information quickly and easily.
Make sure you choose the right bullet points.
Using bullet points, employers can easily read the most relevant information in your experience, skills, and education sections. Your achievements should be listed in bullet points, making them easy to read (minimum of 3 in each section).
You can use other punctuation to separate different ideas if there are fewer than three items of information to have the best cv format for UAE.
Feedback is important.
Ensure that your resume is structured and well-written before asking a trusted colleague or friend to review it. The perspective and feedback of an outsider can be constructive.
Pay attention to the formatting, grammar, and spelling mistakes you might have missed. Consider how easy it is for them to read, how consistent it is, and if it looks professional.
Cv maker free download.
Writing a CV is not an easy task, especially when it comes to creating the best cv format for UAE. If you want to apply for a job, you should have a professional CV that will make your application stand out from the rest.
If your CV does not look professional, employers will find it challenging to consider hiring you. The best way to ensure that your CV is well written and reflects your skills is through our free cv maker download free.
We offer a free online tool allowing users to create customized cv templates. Our cv maker download free is designed with ease of use in mind.
It has been designed so that users can create their own cv in minutes without prior experience writing or creating a resume template. This means anyone who wants to create their own CV can do so easily without having any technical knowledge of creating resumes or cover letters.
In addition, our cv maker offers various features such as different layout options and custom text boxes,,,,, which allow users to modify the layout of their CVs before they are submitted to employers to increase their chances of getting hired in the first place!
CV template doc download free.
Our CV Templates with Doc Format is a collection of cv templates in doc format. The cv template comes in various designs and styles, including business, creative, curriculum, and resume. You can choose to download a single template or all of the templates in our collection.
They are all in pdf format, but you can easily edit them using Adobe site, Small pdf, or any other word processing program on your computer. If you want to present your CV elegantly, we recommend you use our pdf or doc format templates.
You can also use them to create your unique and personal CV by adding personal details and events that happened throughout your life. As soon as you have completed the process of putting together your CV, do not assume it is complete.
Q&A:
To stand out from the crowd and have the best cv format for UAE, your CV should be tailored to the job you are applying for. Every time you make an application for a job, you should edit it according to the job description, and you will be able to ensure that it matches the specifications every time you make an application.
Conquer any job opportunity with our free CV builder. Decide which free pro template you need, have your cv reviewed by an expert for free, or go premium for a complete VIP service!
Consider reading How to make a professional CV.