Resume format for Gulf countries pdf
آخر تحديث: 14 November، 2023
Job applicants create resumes to describe their life, studies, work, experiences, and achievements. The importance of writing a good outline cannot be overstated. In addition, you need to follow specific guidelines to make sure Gulf recruiters find your resume logical. You can effectively secure an interview with the hiring unit by developing a neat and detailed resume that meets the position's requirements. The following tips will help you modify the resume format for gulf countries pdf.
How can I make my resume in Gulf countries?
To meet Gulf countries' standards, there are some tips you can use to make your resume even better, such as:
Take a close look at your CV.
A written resume should be carefully reviewed for grammar, punctuation, and typographical errors. Checking resume format for gulf countries pdf with a good friend will ensure it is error-free since someone else is more likely to spot the mistakes than you are.
Setting up CV for printing.
A4 standard copy paper is suitable for printing resumes, and Calibri and Thoma are the most appropriate fonts. Fonts with fancy artistic designs or colors should be avoided. A layout should be clear and concise, avoid being unconventional, and arrange the form like an advertisement. Type-setting jobs are an exception, of course.
Points to note on a personal resume.
The key points should be highlighted in your personal resume. There is no autobiography in it, and you mustn't include irrelevant information about the job you are seeking. In addition, you must not take away meaningful experience regarding your desired position.
The number of words in the resume.
If you are applying for a job, your resume format for gulf countries pdf should provide the recruiter with the required information to decide whether or not to hire you within 30 seconds (about 200-350 words).
If you are applying for a job, don't just send your resume. You can increase your goodwill by including a short cover letter, and it is doubtful that you will succeed otherwise.
Use your resume to communicate positively.
Your resume should be written positively and not contain negative or self-conscious language. When you are in a good mood, you are more likely to write your resume format for gulf countries pdf.
Getting in touch section on your CV.
For the recruitment unit to inform you of the interview or to release the interview results at the earliest possible time, the personal information must contain complete contact information, including a mobile number, a dormitory fixed telephone, a temporary address or email address, etc.
Choose a good photo for your resume.
It is not advisable to vary resume photos, and it is recommended that you use one to two inches of half-length for a photo. White shirts, monochrome neckties, and black suit jackets are the standard attire for men. For first impressions, women can wear white or light-colored shirts with collars, small monochromatic shirts, or a hijab.
What is the best format for a resume?
A Microsoft Word document or a PDF file is preferred by most employers. Depending on the employer, you might be asked for a plain text version (.txt) with no fancy formatting and no design. Selecting the correct resume format, however, requires consideration of many factors.
Following the instructions is essential for a good CV.
The file format may vary depending on the company's applicant tracking system (ATS). The PDF format is incompatible with some tracking systems, for instance.
You may need to send your resume as an attachment to certain companies when applying via email. Resumes should be submitted in resume format for gulf countries pdf files or Microsoft Word files.
You should be able to find instructions on how to post your resume online, including what file format to use.
Employers are concerned about email attachments that may include viruses. If employers specify in a job ad that documents must be sent via email as PDFs, they can ensure they are virus-free.
Your resume might be requested to be inserted directly into the body of your email without attachments. The resume should be saved as a text file (.txt) and pasted directly into the email.
The job posting should contain specific instructions. You may not be able to view and even review your resume if you send a different file format.
Creating a PDF version of your resume.
There are some significant advantages to saving a resume as a PDF, even though most companies have either Microsoft Word or Google Docs, which makes opening .doc files easy. In addition, it might not be compatible with the employer's applicant tracking system.
When it comes to resumes, many of these "mistakes" are not errors because Microsoft Word or other word processing programs put squiggly lines under misspelled words or grammatical errors.
In many instances, industrial jargon or company names are not found in word processing programs' dictionaries, but that doesn't mean they are misspelled. You can avoid those squiggly lines on your resume, which may be distracting for hiring managers who view the summary on the screen if your resume is saved as a PDF.
Additionally, while Microsoft Word is compatible with both Macs and PCs, documents have different appearances on Macs than on PCs. Hiring managers may use another operating system than you, which may not allow some of your carefully formatted materials to appear correctly. With PDF documents, this isn't the case.
A PDF resume is usually the best option for sending directly to a contact or hiring manager via email. Follow the directions provided in the application system for submitting resumes.
Creating a resume format for gulf countries pdf from a Word document is as simple as following these steps:
In Microsoft Word, select File > Save As.
Using the Format drop-down menu, choose PDF.
Google Docs can be saved as PDFs by following these steps:
You can download a PDF document by selecting File > Download As.
What is the format of the CV for Dubai?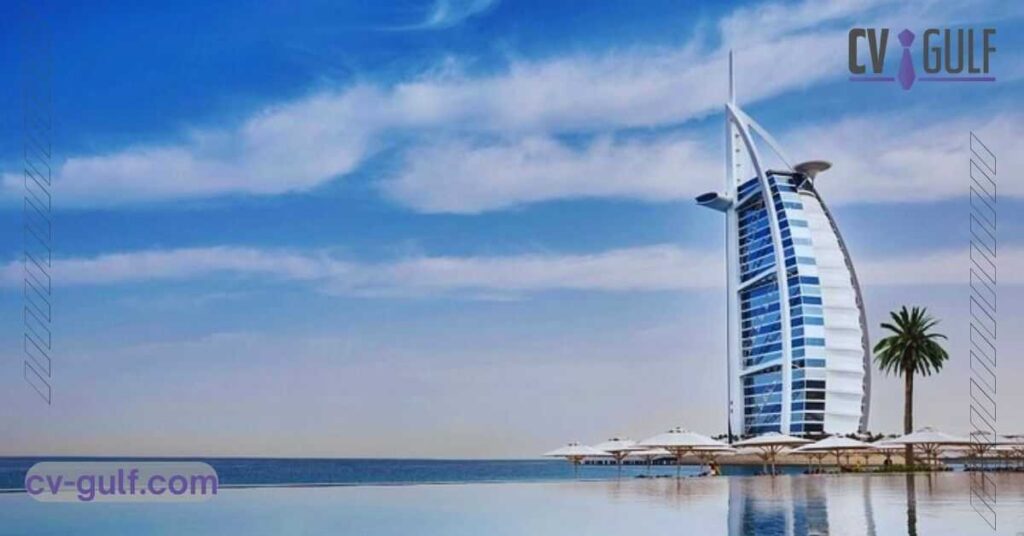 The answer to this question is easy; let's take Dubai, for example. There are several tips you can utilize to make your professional  resume format for gulf countries pdf more acceptable, like:
You may have better prospects with employers in your home country if you have worked for a well-known and reputable firm. Your home experience will be less valuable in Dubai unless the company is renowned.
The best way to address this is to include a brief description of the company in your CV to convey the importance and value of the company.
Your home country's most prestigious university might not be known in Dubai, but it might be highly regarded there. You should describe your university in your resume format for gulf countries pdf in such a way that conveys your pride in it.
A candidate's qualifications can be assessed without reading their CV. Even if you have decades of experience, a 1–2-page CV is appropriate, and clarity and conciseness are essential.
Suppose you have received a certification from an international institution. In that case, you should emphasize it in your CV, as these certificates will more likely be recognized in Dubai than domestic certifications. Including any certificates or licenses you received from the Dubai government is a plus.
Whenever you apply for a job in Dubai, you should mention your visa status, whether on a visit visa, employment visa, or dependent visa.
Readily available candidates are preferred by many employers since they do not have to let their current employers know of their plans to change jobs or go through the Visa change process. The best thing you can do is mention that you are available to start immediately if you are not working.
A CV should not include attachments (e.g., passport copy, degree certificate, testimonials, etc.) as this is common practice in certain countries (e.g., passport copy, degree certificate). In Dubai, this can even put employers off. If requested, provide additional documents and your CV template free without attachments.
Q&A.
Your resume can express yourself and your hobbies, interests, experiences, and skills .therefore, make sure your CV has the best format and the correct information to get your dream job.
Check out our free CV builder if you require any support with your CV. You can choose from many free pro templates, order a free expert review, or go premium for a complete VIP service. Contact us from Saudi Arabia & Gulf countries. Click here.